Amazfit GTS: Design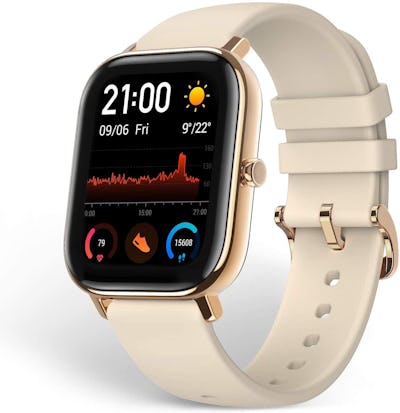 The Amazfit GTS isn't in any event, going after for inventiveness; the structure reasoning is Apple Watch. There are a bunch of contrasts between the two, yet they're really unpretentious. The GTS has marginally rounder corners, a littler, focused crown and drags incorporated with the case. It's hardly littler and more slender, and significantly lighter (0.8 ounces versus 1.3 ounces) than Apple's wearable. This is acceptable; the Apple Watch comes in two sizes, however the Amazfit GTS just comes in a single size, which is excessively large for somebody with unusually little wrists like mine. The sleeker, lighter profile makes the 42-millimeter GTS less overpowering than the 44-mm Apple Watch.
The GTS has an astoundingly lovely glass show: A 1.65-inch AMOLED screen with a goal of 442 x 348 pixels, or 341 pixels for every inch (ppi). By examination, the 44-mm Apple Watch Series 5 has a 1.78-inch OLED screen with a goal of 448 x 368 pixels, or 326 ppi. At the end of the day, the GTS' screen effectively stands its ground against the Apple Watch's — it's fresh, clear, brilliant, simple to peruse in direct daylight and effectively safe with swipes and taps. The GTS' "crown" is a multifunction button you can use to wake the gadget and pull out of menus. (It likewise turns, yet turning it has no capacity.)
The GTS comes in six shading combos: Matte dark with a dark lash, matte dim with a dim tie, cleaned gold with a tan tie, matte silver with an orange tie, matte pink with a pink tie and matte blue with a blue tie. The included tie is made of silicone and is shockingly agreeable, however it looks sort of modest with the GTS' premium watch case. The lash is joined to the case by means of brisk discharge spring bar pins, so it's effectively swappable. Amazfit doesn't sell official embellishments, yet there are a lot of outsider choices; you can likewise utilize a normal 20-mm watch band.
It's water-safe up to 50 meters, so it ought to be alright for swimming laps, however Huami prompts against wearing it while plunging into water or washing up.