Display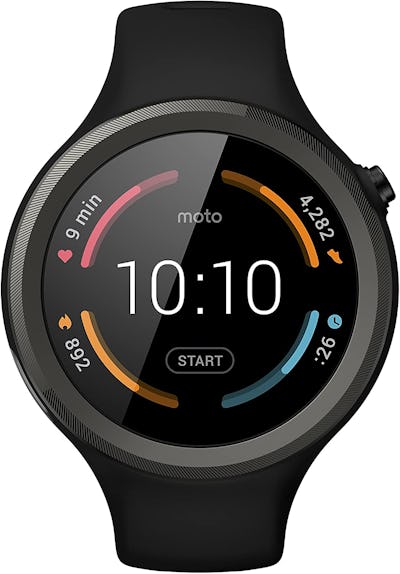 The Moto 360 Sport has what Motorola calls an AnyLight show, and it's entirely smart. This appears as though an ordinary LCD show when you're effectively utilizing the watch in typical light, yet changes to a Pebble Time-like transflective style when it's exceptionally splendid, or when the watch is inert and simply showing the time.
I've seen this as a close flawless combo, in any event as far as how the screen looks. It doesn't appear to be diminish or shading sapped inside, similar to a Garmin Fenix 3 or Pebble Time Steel, and is completely clear when you're running, or when you simply need to check the time, outside on a radiant day.
The Moto 360 Sport switches between its two screen styles suddenly – there's no most of the way setting, however it picks the correct point to switch over, and does as such with no off-kilter delays. This AnyLight 'exchanging' screen is the one acceptable reason for the screen chop out down the base, as it's the place the surrounding light sensor lives.
One issue with AnyLight is that when it changes to the 'outside' show, which feeds off surrounding light as opposed to a backdrop illumination, it's practically monochrome. The tone is sepia-touched, with simply the smallest proposal of shading tones, yet it's in no way like the hues you get with a Pebble Time.
Subsequent to battling to see the time at all on a typical LCD Android Wear watch previously, however, this is a major improvement.
Alongside the battery life, the other significant presentation proviso is that the Moto 360 Sport's following is somewhat essential contrasted and a games watch costing a large portion of the cost. With scarcely any Android Wear watches offering GPS, the huge running applications have, reasonably, not heaped a large number of hours into making their Android Wear applications function admirably without a telephone joined.
Runkeeper does, yet the UI despite everything plays like it's piggy-easing off a telephone, which isn't generally sufficient.
For the time being your smartest choice is to utilize the Moto Body Running application, which comes pre-introduced. This lets you pick between running inside or outside, the previous mode utilizing accelerometer information and the last utilizing GPS. You would then be able to pick either an exercise objective in separation or calories, or select brisk begin to 'free' run.
As you run you can check your pace, how far you've run, how quick your heart is thumping and your split occasions. There are no multi-sport capacities, and no following of further developed measurements like VO2, however I can envision this being a solid match for the 5K weekend sprinter who needs more than what a 'moronic' wellness tracker brings to the table.
It's simple, it's speedy and the Moto 360 Sport additionally snares onto GPS satellites rapidly, for the most part in well under 30 seconds as far as I can tell – it appears that Motorola utilizes both a quicker and less force sapping GPS chip than Sony does in the SmartWatch 3.
Run information is transmitted to the Moto Body application on your telephone, from where you can take a gander at guides of your course, pace diagrams and even check your pulse all through the exercise. It's not awful.
The Moto 360 Sport's product won't be sufficient for everybody, however, especially as you'd need to log cycle rides and strolls as 'runs', yet it's doing the stunt for me.
Motorola's issue is that while the running watch advertise is genuinely developed, the sprinter's Android Wear smartwatch showcase isn't, and you feel this in both the equipment and the software.The Running application attempts to get around this by utilizing a serious prescient calculation that appears to have as much state over the perusing as the sensor itself. This empowers it to create post-exercise charts that look about right, yet contrasting the outcomes with those of a sensor at the rec center shows the outcomes are reliably off.
It's about comparable to the pulse sensor of any Android Wear watch: not very.