Accuracy and features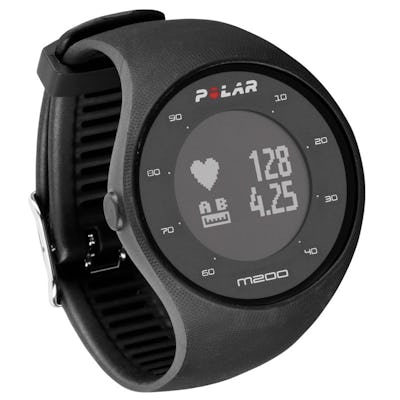 The M200 is pressing the fundamental things for any sprinter. There's worked in GPS, permitting you to take it out without a telephone, and an optical pulse screen on the back.
The watch accompanies a few pre-set exercises, however you can include bounty progressively through the application. As Polar clients will know, this range is really thorough, exemplary roller skiing and table tennis not avoided. Yet, with the vast majority of these you won't get explicit following, just HR information and GPS in the event that it includes open air movement, such as running and cycling. There's a program for swimming here as well (truly, it's waterproof – to 30 meters) however the M200 doesn't follow your strokes. I feel that is a disgrace – that could have made this watch significantly increasingly attractive.
During my testing with the watch I saw the GPS as awesome. I put it facing my telephone just no doubt, and exactness has unquestionably not been an issue.
The watch attempts to distinguish any stops, and on a few events it shaved off a portion of the separation toward the beginning in light of the fact that there was a great deal of quit beginning as I cleared my path through a bustling piece of town. It implied my pace and HR normal was progressively exact in my post-exercise investigation, despite the fact that it meant a portion of my exercise was disposed of.
I've been satisfied with the pulse screen as well, particularly in the wake of utilizing such a significant number of poor optical sensors starting late. The resting perusing has been right on the money more often than not, and while moving – ordinarily when optical perusers can go AWOL – the perusing remained nearby to the Polar H7 chest tie, which I see as an exceptionally exact approach to follow my information.
In a run you'll have the option to see your lap time, pulse, pace and in general span. Checking my pulse against the chest lash in activity, it was regularly close. Generally I discover wrist-based optical perusers to peruse excessively high, yet the M200 kept it low and increasingly precise. The reality the M200's lash has such a significant number of indents helps here, guaranteeing you can get it sufficiently cozy to stop it slipping, however not very close.
Utilizing Polar's program programming you can set lap data, including auto-laps, in spite of the fact that there doesn't seem, by all accounts, to be a method of doing it in the application at the present time. Then again you can record laps physically by holding the correct catch when you're on a run. Out of the crate it defaulted to auto laps, which were set to miles for me.
I do like too that I can see a past filled with my ongoing exercises on the watch itself, including pace, pulse and separation data for each.
Yet, the M200 additionally tracks your day by day action outside of explicit exercises, with a level of your objective and calories consumed consistently accessible on the watch. In contrast to some different trackers be that as it may, the HR screen isn't recording continually. You can choose 'My HR' from the menu whenever to get a depiction perusing, however this implies you're not going to get any huge finish of-day charts to pour over.
Diving into the action menu will reveal to you your outstanding action obligation and how you can accomplish it by running or strolling. A particular exercise you do will be put towards your every day all out as well.
The M200 likewise works as a rest tracker, yet a fundamental one, presenting a basic record of your general rest time and quality toward the night's end. I wouldn't accepting this if this is one of your extraordinarily wanted highlights. The precision isn't awesome, and you're in an ideal situation going for something from Misfit or Fitbit if a wrist-based rest tracker is the thing you're pursuing. Contrasted and both the Misfit Ray and the Beddit 3 rest sensor, I saw the Polar as somewhat off.
At that point you have brilliant warnings, which are not exactly great on the M200. Annoyingly these can't be tweaked, and considerably all the more irritating is the manner by which the watch shortens them with no approach to scroll. So you'll get portions of messages and different less helpful notices, just as the current melody playing (or if nothing else a touch of the title) however with no real way to really control playback.
As a rule it's once in a while accommodating; it is smarter to show the name of the application or individual reaching you and leave it at that. Additionally odd is that these don't work during an exercise, with just calls coming through. Everything feels somewhat tapped-on for it, absent a lot of thought concerning how individuals may utilize them.
One other bogeyman I have with the M200 is that it now and then finds adjusting an issue. Strangely I discovered it worked preferable with a Samsung telephone over it did an iPhone, yet the absence of consistency is a smidgen irritating.