SUUNTO Core Outdoor Watch Full Review

It's energetic, it's shrewd and it's pressed with highlights, however has this outdoorsy watch from Suunto got the legs for route? Lacking GPS, the Suunto Core quickly goes down the hierarchy of shrewd games watches - underneath the new Suunto Ambit 2, no less - except for stays a strong, simple to utilize and exceptionally exact watch for explorers and skiers.
Estimated at £235/US£299/AU$299, it's a sensibly appealing and absolutely waterproof watch, with a silicon lash (red on our survey test), a compass ring around the boundary of the clock face and a dim, practically ebony showcase inside.
The presentation was at first our fundamental worry about the Suunto Core; the screen and readouts simply look so faint, yet we never had an issue perusing the data inside or under cloud, and in brilliant daylight it's in reality a lot simpler to peruse.
The other side to its faint screen, obviously, is a throughly good battery life of around a year. That is on account of its utilization of a CR2032 battery - the most widely recognized watch battery of all - yet in addition as a result of the Suunto Core's absence of a GPS sensor, the steady correspondence of which would deplete the battery in days.
Disregard GPS - the Suunto Core is about the specialty of advanced altimetry, which is apparently more exact and dependable than GPS when you're in nature. The altimeter inside the Suunto Core estimates pressure, not directions, to figure elevation (up to 9,000m), however you'll clearly still need a guide to transform that into area.
The favorable position is that it keeps on working in any event, when you meander into gorges or into shielded zones where there's no immediate view to the GPS satellites.
| | |
| --- | --- |
| Product Dimensions | 1.93 x 0.57 x 1.93 inches; 0.64 Ounces |
| Department | Mens |
| Date First Available | August 13, 2019 |
| Manufacturer | Suunto |
| Case Material Type | Aluminum |
| Display Type | Digital |
| Item Shape | Round |
Time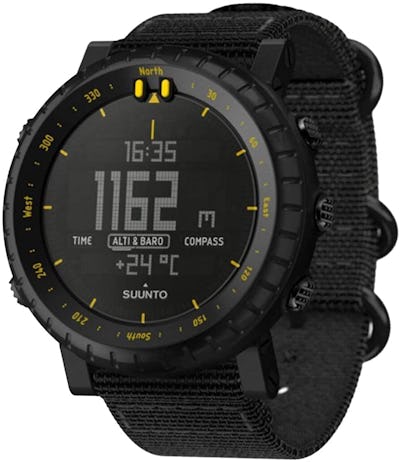 The Core has three alerts, which is equivalent to the Suunto Ambit2 and the Suunto Vector and not exactly both the Casio Pathfinder PAG240-1 and the Pathfinder PAG240T-7, which have five. Other than having less alerts, what we thought was the greater arrangement was the Suunto cautions weren't boisterous and we needed to put the watch near our head to ensure they woke us up. The Core has a stopwatch and a clock and during both of these capacities, you can see the current time and whatever your stopwatch/clock is estimating.
Altimeter and Barometer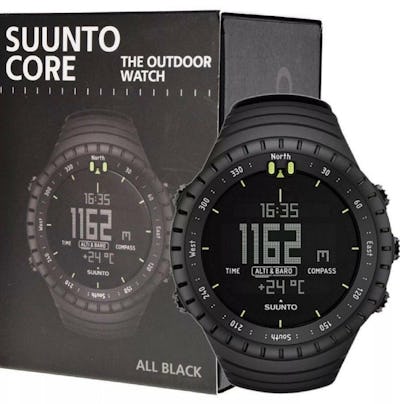 Dissimilar to both Pathfinder models and the Vector, the Core has the altimeter and indicator capacities connected together. It estimates height in three-foot or one-meter spans contrasted and the Pathfinder 20 feet or 5 meters and the Vector's 10 feet or 3 meters. The altimeter/gauge highlight is sweet. It ascertains long haul constrain patterns to give you a more precise perusing. For instance, when you are rising it gains with you as the barometric weight changes at a rate far quicker than the barometric weight changes with the climate. When you quit picking up rise for some time (for example resting) it understands that and sees any gauge pressure changes as what they are and not height gain. This is a pretty cool and genuinely powerful element; it works now and again however not generally in our certifiable tests. It had the second most exact altimeter just every so marginally behind the considerably more costly Ambit2.
The Core has an elevation log. While this doesn't appear to be serious, when individuals get an altimeter watch this is one of their most-utilized highlights. For as long as seven days the Core will log your all out climb, plummet and number of runs. For skiers, it logs the number of laps you take while for explorers and climbers on path that go all over it will reveal to you your actual vertical tallness picked up. The Vector has a 24-hour log and will likewise put away to 100 logs. The Pathfinder models can just hold up to 40 logs.
Something we didn't care for contrasted with the Vector was that you needed to experience three or four menu pages to change the elevation. Though the Vector you simply hold down a solitary catch in elevation mode to change the height.
The Core has a diagram for indicating both height and barometric weight drifts that was brilliant and likely the best in the survey. The main bummer is it took a few menu pages to pull it up, yet we got the hang out if and could pull it up before long with time.
Compass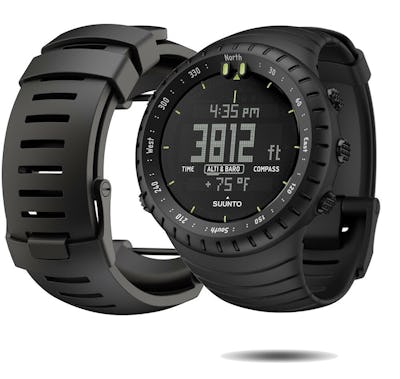 You can set it to assist you with recording and follow compass heading. In all the models we tried, in the event that you are accomplishing more genuine off-trail travel we wouldn't bring this as your solitary compass, yet it's fine for individuals who simply need it for an overall perspective.
Other cool features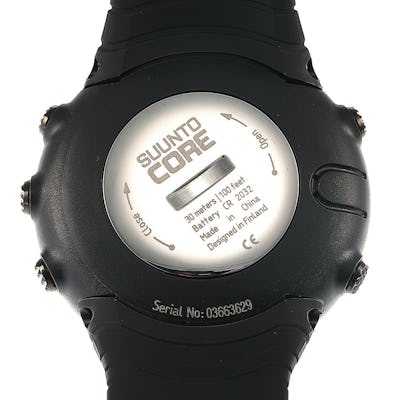 The Core is one of few altimeter watches you can take swimming or shallow plunging. It is sufficiently waterproof to bring down to 100 feet, however it will just precisely disclose to you your profundity to 30 feet. While positively not a "unquestionable requirement have" include, the Core has dawn/dusk times. You can get to this by choosing your area (or the closest one out of 400 alternatives contrasted and the Pathfinder's 48). Subsequently you can know nightfall/dawn times and set cautions.
Ease of use and interface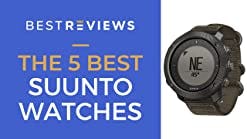 The Core comparably to the new Ambit2 utilizes an alternate menu design than the more seasoned Vector, so individuals redesigning should relearn how to utilize their watch. When you get hang of it, the menu on the Core is more obvious and the menu things are substantially more unmistakably named. You get three snippets of data showed simultaneously. One move up to the Core over the Vector is an additional catch to explore through the menu and capacity alternatives.
Display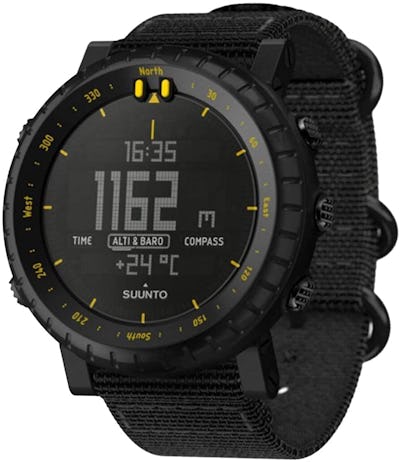 The showcase is the Core's one shortcoming. In focused energy light conditions (on an ice sheet for instance), and additionally with dull glasses, the screen was more hard to peruse than different models we tried. Meaningfulness aside, we like the general design of the menu symbols on the Core, with its huge screen and huge and simple to-understand numbers.
We wish Suunto would offer both the dark on white and the negative alternatives for the showcase like they offer on their Ambit2 GPS altimeter watch.
PROS AND CONS
| | |
| --- | --- |
| Pros | Cons |
| Easy to use | No GPS |
| Year-long battery | High price |
| Waterproof | Dim screen |
Conclusion
The Suunto Core is the most completely highlighted altimeter watch we tried. The Core has something for everybody: waterproof catches for swimming and shallow plunging, more exact altimeter and indicator capacities, more pleasant charts, and a marginally simpler to-utilize interface with a pleasantly named and straightforward menu. The drawback: the Core is additionally one of the most costly non-GPS watches we tried.